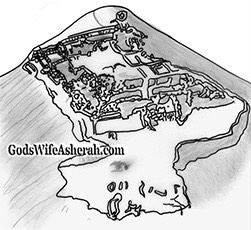 Kuntillet Ajrud loomed like a welcoming beacon in the Sinai Desert. 
A small attached shrine provided solace to travelers 
Although a southern complex under Israelite control, neutron analysis reveals the clay of the storage jars came from the Jerusalem area and the storage jars were actually produced by Judahites.
Introduction to Asherah & Yahweh Inscriptions at http://youtu.be/QBNo2tBXBZk.